GymCert Story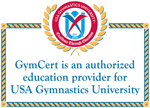 Olympic Coach, Rita Brown of Brown's Gymnastics had the vision to team up with Planet Digital and Radius Media the reputable e-business technology solutions providers to provide the Gymnastics community with a state of the art e-Learning (LMS) Learning Management System. Ms. Brown, together with Radius Media, RitestoneTechnology, and Planet Digital designed this e-Learning Soultions Company.. The mother company known as USACERT i.e., USA Coaches Certification, Inc. developed the online e-learning platform called GymCert and CheerCert and offers online education and training for companies who wish to offer further educational options to their specific industry.
After almost 10 years of research and development, USACERT has created CERT ENTERPRISE and CERT LITE which are state of the art Modularly designed Web Based Training (WBT's) and certification solutions that utilizes the newest Information Technologies such as: Unix-based systems using PHP, Cold Fusion MX, Macromedia Dreamweaver MX, Macromedia Flash MX, Live Person for support, Windows Media Digital Streaming Video, JavaScript, PHP4.0, PostgresQL, MySQL, StreamingHand and Dynamic HTML.
Advisory Board Chair
Rita Brown, CEO of USACERT and GymCert
Ray Snyder, S.I.S. Insurance/AASA
Mike Jacki, USAIGC President
Mel Stevens, Security Finanacial
Patti Komara,Pattis All American Gymnastics
Ernie Valliere, Marketing/Financial Services
Shawn Porter, Regal Studio
Chris Korotky, Inside Gymnastics & Inside Cheer
Kelly Donyes, Education
Paul McAloon, Education
Chelle Stack, Olympian/Education
Al Fong, 2004 Olympic Coach,
George Hery, Trampoline Expert
Paul Ziert, Intl Gymnast Magazine
Vladimir Artemov, 1988 Olympic Champion
Wayne Kerr, National & International Coach
Link Franzini, Central California Gymnastics Institute
Claudia Kretschmer, Gym America Gymnastics
Kristie Phillips, KPAC
Rik Feeney,Richardson Publishing, & Gymnastic Training Tips

Rita Brown, owner of several Brown's Gymnastics training centers around the US, had the vision to understand that Gymnastics as a sport needed to support its coaches with better training.

GYMCERT was formed in order to provide standardized web-based training courses at all levels of gymnastics. Each course, upon successful completion, enables a person to become certified as a Gymnastics Coach.

From this, some of our objectives are:
To ensure coaches are certified in Safety and proper gymnastics coaching techniques.
To provide a safer environment for our athletes.
To provide a higher quality of instruction for our athletes.
To reduce the insurance industry's risk, thus lowering liability insurance rates for gyms that only use certified coaches.
To provide accountability of gymnastic coaches and gyms.
To provide a cost savings to coaches and gym club owners.