WELCOME TO GYMCERT
The premiere learning and teaching resource for coaches and gymnastic professionals world wide.

ONLINE INSTRUCTION
Gymcert provides online instruction that helps you learn the way you learn best—with audio, video and text to help you visualize the best techniques
BOOKS, DVDs and more
Gymcert offers training in the format you need to succeed—whether it's online, offline, or anywhere in between
Browse our selection and find the learning material that fits your style
GET CERTIFIED
From the basics of safety to better coaching techniques and advanced risk management, GymCert offers the definitive program for becoming a better gymnastics professional.
USA GYMNASTICS UNIVERSITY CREDIT
USAGymnasticsUniversity.org offers University Credit for R104: GymCert Level 1,
R105: GymCert Boys Level 1, R204: GymCert Level 2, and R205: GymCert Level 3.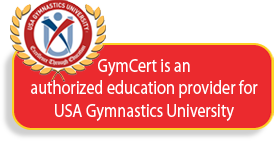 TESTIMONIALS
"Education is the foundation and key to a successful program. I give GYMCERT a perfect 10!"

Mary Lou Retton,
1984 Olympic Champion
READ MORE >